We'd like to inform our kind visitors that from November 3rd, 2014 "Giotto under the Stars" will be suspended. Evening visits will be temporary available during Christmas holidays from December 27th to December 30th 2014 and from January 2nd to January 11th 2015.
Therefore on those days it will be possible to visit the Scrovegni Chapel 19.00 - 22.00 every 20 minutes. Last entry at 21.20.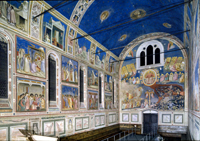 The Scrovegni Chapel, a masterpiece in the history of painting in Italy and Europe in the 14th century, is considered to be the most complete series of frescoes executed by Giotto in his mature age.
Colour and light, poetry and pathos.
Man and God.
The sense of nature and history, humanity and faith are mingled in narrating the stories of the Virgin Mary and Christ in a unique way.
Giotto completed the frescoes in the Chapel at the beginning of 1305.
At that time: "...the chapel presents very simple architecture: a rectangular hall with a barrel vault, an elegant gothic triple lancet window on the façade, tall, narrow windows on the southern wall, and a polygonal apse, later raised to contain the belfry".
The frescoes follow three main themes :episodes in the lives of Joachim and Anna (1-6), episodes in the Virgin Mary's life (7-13),episodes recounting Christ's life and death.
The lower parts of the walls contain a series of frescoes illustrating Vices and Virtues in allegory.
We are here
For information about corporate events, extraordinary openings and private visits write to This email address is being protected from spambots. You need JavaScript enabled to view it.